ADVERTISE WITH DIGITAL COMMERCE 360
As the #1 source of ecommerce media and research, Digital Commerce 360 offers a unique platform to showcase the latest services and technologies to professionals worldwide. Our journalists and researchers study the complete ecommerce landscape and deliver our intelligence to over 50,000 decision makers in the retail and B2B ecommerce market.  We can connect you with this expansive community of leaders through a variety of digital channels, including our website, reports, newsletters, webinars, live events and more. 
Explore our media products and sponsorship opportunities to target your best prospects and shine a spotlight on your company as an industry leader. 
The Benefits of Partnering with Digital Commerce 360
Our loyal community is the driving force behind our success and what continues to fuel our passion for ecommerce.  Learn more about who we serve and the opportunities waiting for you!
ADVERTISING OPPORTUNITIES
Digital Reports
Showcase your business in Digital Commerce 360's Retail and B2B Industry Reports, featuring a variety of trending retail and B2B ecommerce topics and technologies.  
Our sponsorship programs deliver thought leadership, quality leads and turnkey promotional marketing to thousands of subscribers through newsletters, DigitalCommerce360.com, email and social media. 
The types of digital reports we offer include:
Retail Strategy Insights Reports
Strategy Insights Reports are a collection of retail articles, analysis on hot ecommerce topics and the latest insights from our research, written monthly by Digital Commerce 360 editors and available for complimentary download.
Retail Editorial Topics
Holiday Review, Planning & Cyber 5 Results
Ecommerce Platforms
Omnichannel & DTC
Marketing & Customer Experience Trends
Shipping & Fulfillment
North America's Top 1000 Online Retailers
Marketplaces
Leading Vendors to the Top 1000
B2B Ecommerce Strategy Reports
B2B Ecommerce Strategy Reports are comprehensive analysis reports, covering B2B ecommerce topics and include the latest insights from our research, written by Digital Commerce 360 editors and available for complimentary download.  
B2B Editorial Topics
B2B Marketplaces
B2B Ecommerce Market Forecast
B2B Manufacturing & Distributors Trends
B2B Technology Roadmap & Disruptors
E-Procurement & Supply Chain
B2B Ecommerce Market Index Update
B2B Conversion Rate Secrets
Webinars
Engage with an invested audience of retail and/or B2B ecommerce decision-makers! 
Digital Commerce 360 has an experienced editorial team and webinar project management team that will make your event 100% turnkey and manage all the planning for you (promotions, registrations, pre- and post-attendee details and more). We host over 40 events a year for our customers. 
Standard Webinar Program 
Sponsor produces the topic, speaker, slides and has control of the format

 
Premium Editorial Webinar Program 
Full turnkey event – Digital Commerce 360 editors create webinar content based on our research and market knowledge, present the content and recruit guest speakers

 
Content Syndication
Invest in a one-month sponsorship to promote your case study, whitepaper or research and gain high-quality leads. 
Landing Page
Learning Lab Newsletter
Shine a spotlight on your business, products, services and more with ads on DigitalCommerce360.com and reach our average monthly audience of 115,000+ unique visitors, 200,000+ page views and 700,000+ impressions.
Email Marketing
Market whitepapers, case studies, research, or webinars to a retail or B2B ecommerce subscriber database (or both).
Standard Email Program
Select from over 50,000 retailers, consumer brands, manufacturers, distributors and wholesalers to market your content.
Retail and B2B Newsletters
Each week, we deliver several editions of Digital Commerce 360's Retail and B2B Newsletters to a combined audience of over 50K ecommerce executives.
All newsletters are sold on a weekly basis. Combination newsletter ad buys are available. Please contact your sales manager for rates.
Custom Research
Since 2004, Digital Commerce 360 Research has established lasting relationships with thousands of retailers worldwide to collect and publish benchmarking data and best practices across B2B (business-to-business) and B2C (business-to-consumer) ecommerce.
Exclusive content marketing programs include custom reports, whitepapers, case studies, e-books, benchmark reports, infographics, surveys and more.
Live Events

 
Digital Commerce 360 Events is a brand of Digital Commerce 360 and home to EnvisionB2B, a progressive conference and exhibition that premiered June 2022 in Chicago. Our events and action-packed agendas are powered by a team of knowledgeable researchers and seasoned journalists, focused on delivering critical expertise and best practices on a multitude of timely ecommerce topics. 
COMING UP: 2023 EnvisionB2B Conference & Exhibition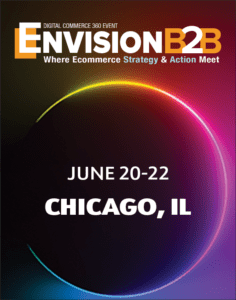 EnvisionB2B is an in-person conference and exhibition, designed to connect B2B professionals with knowledgeable industry leaders and help businesses build successful ecommerce strategies to increase revenue and convert first-time buyers into loyal online customers.  
Digital Commerce 360's Vendor Directory offers technology providers the opportunity to feature a detailed company profile on the website.
Company profiles include full company details, social media, videos, client testimonials, editorial mentions, links to your website's lead-generating assets, and other key information.
Here are a few of our loyal clients and partners…